Lot 30031 –
1879 (Aug 23) Envelope from Josephine Bartlett of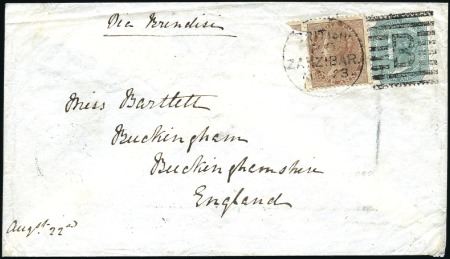 Lot 30031 –
1879 (Aug 23) Envelope from Josephine Bartlett of
Zanzibar » The Indian Post Office (1875-1895)
Estimate
1'000 – 1'500 EUR
Auction date
Tue 2 Dec 2014 at 15:00 (Europe/Zurich)
1879 (Aug 23) Envelope from Josephine Bartlett of the Universities' Mission at Zanzibar sent to England via Aden (31 August) & Brindisi bearing 5a franking tied with second type canceller of the Indian post office of Zanzibar (Bombay circle with "B" in rectangle of 8 horizontal bars and accompanying date-stamp "BRITISH P.O. ZANZIBAR" and without year date), very fine and rare. This cover is the EARLIEST RECORDED USE of the canceller and was in use from August 1879 until June 1882. The 5a single letter rate to England via Brindisi was in effect from July 1878 until 1 February 1880. Very fine & rare.
Please note that we are still working on adding images for the lots. If the lot you are interested in does not have images available yet, we invite you to check again in a few days.
If you still cannot find the images you are looking for in a few days, please send us a message. Important: don't forget to mention the lot number(s).
Thank you for your understanding.