Lot 30030 –
SIGNED ENVELOPE FROM THE FAMED EXPLORER H. M. STAN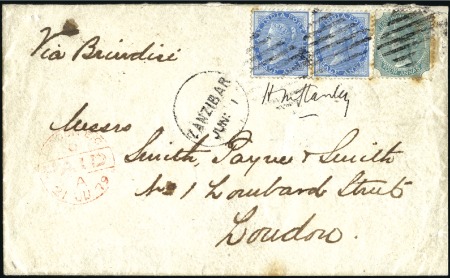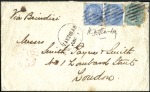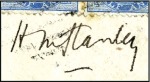 Lot 30030 –
SIGNED ENVELOPE FROM THE FAMED EXPLORER H. M. STAN
Zanzibar » The Indian Post Office (1875-1895)
Price realised
32'000 EUR
Estimate
30'000 – 40'000 EUR
Auction date
Tue 2 Dec 2014 at 15:00 (Europe/Zurich)
SIGNED ENVELOPE FROM THE FAMED EXPLORER H. M. STANLEY 1879 (Jun 1) Envelope written AND SIGNED by the explorer H. M. Stanley addressed to his bank in London Messrs Smith, Payne, & Smith. The cover bears the 5a single letter rate postage composed of 1865 1/2a pair and 1866-78 4a Indian adhesives and all tied with the first ten-bar canceller of Zanzibar along with accompanying date-stamp without the year date, some minor foxing around adhesives otherwise fine. Stanley left Zanzibar on 25 May on the ship "Albion" en route to Boma on the mouth of the Congo River. It is surmised that Stanley left the cover with a forwarding agent for mailing, hence the reason for his signature. One of the three key postal history items from Zanzibar. Provenance: Yates (1939), Hinde (1957) and Sturton.
Please note that we are still working on adding images for the lots. If the lot you are interested in does not have images available yet, we invite you to check again in a few days.
If you still cannot find the images you are looking for in a few days, please send us a message. Important: don't forget to mention the lot number(s).
Thank you for your understanding.