Lot 30029 –
1878 (Dec 12) Envelope from Josephine Bartlett of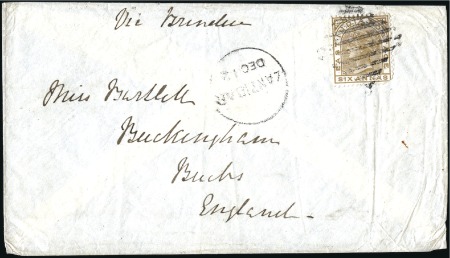 Lot 30029 –
1878 (Dec 12) Envelope from Josephine Bartlett of
Zanzibar » The Indian Post Office (1875-1895)
Estimate
1'200 – 1'500 EUR
Auction date
Tue 2 Dec 2014 at 15:00 (Europe/Zurich)
1878 (Dec 12) Envelope from Josephine Bartlett of the Universities' Mission at Zanzibar sent to England via Aden (22 December) & Brindisi bearing single 1876 6a (corner perf. fault) tied by first type ten-bar obliterator of the Indian post office at Zanzibar with accompanying date-stamp (without year date). Miss Bartlett lived at Zanzibar until her death in 1895. Fine and rare.
Please note that we are still working on adding images for the lots. If the lot you are interested in does not have images available yet, we invite you to check again in a few days.
If you still cannot find the images you are looking for in a few days, please send us a message. Important: don't forget to mention the lot number(s).
Thank you for your understanding.