Lot 30022 –
1889 (Aug) Sailor's concessionary rate envelope fr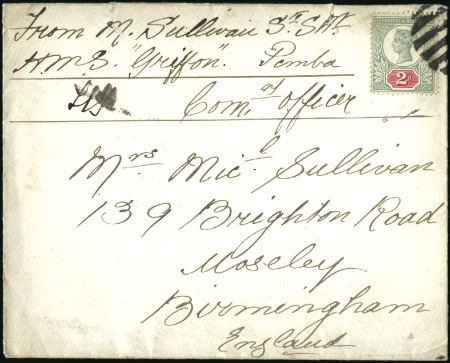 Lot 30022 –
1889 (Aug) Sailor's concessionary rate envelope fr
Zanzibar » Anti-Slave Patrol (1864-1896)
Estimate
1'200 – 1'500 EUR
Auction date
Tue 2 Dec 2014 at 15:00 (Europe/Zurich)
1889 (Aug) Sailor's concessionary rate envelope from H.M.S. "Griffon" while at Pemba Island (Zanzibar), from the Sullivan correspondence sent to Birmingham, England (received 21 September), bearing Great Britain 1887 2d "Jubilee" tied by partial oval of 7 bars. The envelope was initialled by the Commanding Officer. Very rare as this is the only example from the slave patrol postal history emanating from Pemba, ex Sturton Notes: Michael Sullivan's duties were as a skilled shipwright. The "Griffon" was on slave patrol duty off the east African coast.
Please note that we are still working on adding images for the lots. If the lot you are interested in does not have images available yet, we invite you to check again in a few days.
If you still cannot find the images you are looking for in a few days, please send us a message. Important: don't forget to mention the lot number(s).
Thank you for your understanding.