Lot 30019 –
1874 (Oct 24) Officer's letter sent from Naval Ins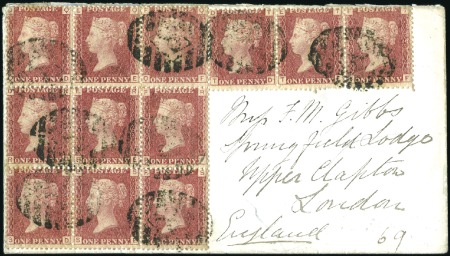 Lot 30019 –
1874 (Oct 24) Officer's letter sent from Naval Ins
Zanzibar » Anti-Slave Patrol (1864-1896)
Estimate
3'000 – 4'000 EUR
Auction date
Tue 2 Dec 2014 at 15:00 (Europe/Zurich)
1874 (Oct 24) Officer's letter sent from Naval Instructor Joseph D. Paul serving on the H.M.S. "Glasgow" to his fiancée Fanny May Gibbs at London. The log of the "Glasgow" records the ship arriving at Zanzibar from the Comoros Islands on 18 September 1874 and departing for the Seychelles on 5 October. B.I.S.N. Company's "Euphrates" carried the mails from Zanzibar on 24 September, connecting with the P. & O.'s "Mirzapore" arriving at Southampton on 1 November and London the following day. The cover bears a block of nine and a strip of three GB 1858-79 1d red pl.120 correctly paying the 12d Officer's rate. Very attractive and rare. Ex Geoffrey Osborne.
Please note that we are still working on adding images for the lots. If the lot you are interested in does not have images available yet, we invite you to check again in a few days.
If you still cannot find the images you are looking for in a few days, please send us a message. Important: don't forget to mention the lot number(s).
Thank you for your understanding.