Lot 30016 –
1875 (Feb) Envelope from the German Consulate at Z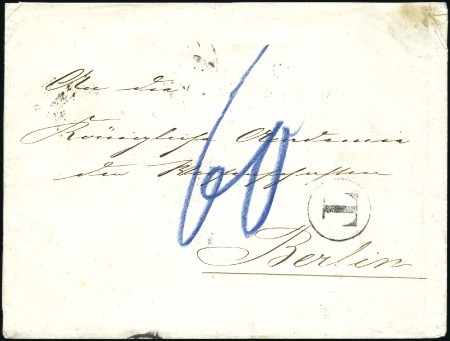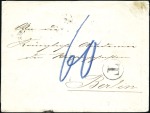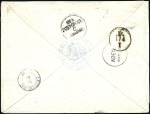 Lot 30016 –
1875 (Feb) Envelope from the German Consulate at Z
Zanzibar » Pre-Post Office Period (Pre-1875)
Estimate
1'500 – 1'800 EUR
Auction date
Tue 2 Dec 2014 at 15:00 (Europe/Zurich)
1875 (Feb) Envelope from the German Consulate at Zanzibar sent to Berlin noting a deficiency charge of "60" (pfennigs) displayed in blue crayon along with the standard "T" in circle tax marking. The envelope was incorrectly taxed as consular mail was presumably free. The envelope was sent via Aden & the P. & O.'s "Australia" carrying the cover through the newly completed Suez Canal and then to Brindisi, and from there via rail to Leipzig and to the final destination. The consular German seal was applied in blue on the rear flap. This cover was sent just eight months prior to the opening of the Indian post office at Zanzibar.
Please note that we are still working on adding images for the lots. If the lot you are interested in does not have images available yet, we invite you to check again in a few days.
If you still cannot find the images you are looking for in a few days, please send us a message. Important: don't forget to mention the lot number(s).
Thank you for your understanding.