Lot 30014 –
1869 (May) Envelope written from "Mrs. Kirk (H. Co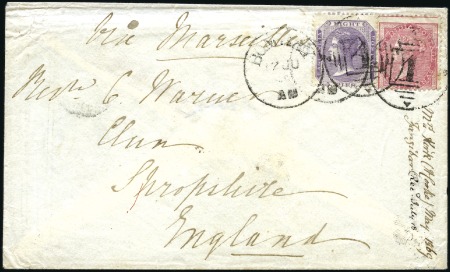 Lot 30014 –
1869 (May) Envelope written from "Mrs. Kirk (H. Co
Zanzibar » Pre-Post Office Period (Pre-1875)
Estimate
1'500 – 2'000 EUR
Auction date
Tue 2 Dec 2014 at 15:00 (Europe/Zurich)
1869 (May) Envelope written from "Mrs. Kirk (H. Cooke), wife of the British Consul John Kirk, sent to England having been carried first to Bombay where Indian 1866-8 8a rose and 1860-4 8p lilac issue were applied and cancelled with duplex date-stamps, one of three covers recorded by Mrs. Kirk in the 1867 to 1869 time frame, very fine & rare, ex Sturton.
Please note that we are still working on adding images for the lots. If the lot you are interested in does not have images available yet, we invite you to check again in a few days.
If you still cannot find the images you are looking for in a few days, please send us a message. Important: don't forget to mention the lot number(s).
Thank you for your understanding.