Lot 30012 –
ONE OF ONLY 3 COVERS KNOWN SENT VIA THE SEYCHELLES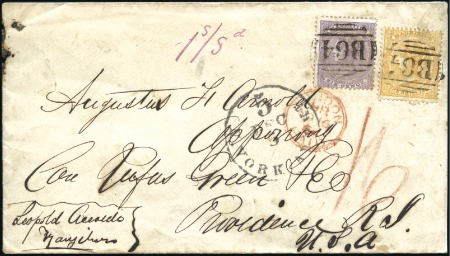 Lot 30012 –
ONE OF ONLY 3 COVERS KNOWN SENT VIA THE SEYCHELLES
Zanzibar » Pre-Post Office Period (Pre-1875)
Price realised
14'000 EUR
Estimate
12'000 – 15'000 EUR
Auction date
Tue 2 Dec 2014 at 15:00 (Europe/Zurich)
ONE OF ONLY 3 COVERS KNOWN SENT VIA THE SEYCHELLES BEARING MAURITIUS STAMP USED IN ZANZIBAR 1864 (Oct) Envelope sent to Augustus Arnold in Care of Rufus Green & Company at Providence, Rhode Island (United States), noted in manuscript from "Leopold Acevedo / Zanzibar". The envelope Bears 1/- & 6d Mauritius adhesive issues of 1863 each tied with "B64" numeral cancellations applied for use by Seychelles postal officials, with Seychelles, London and New York transits, fine and extremely rare. One of only three covers from Zanzibar bearing Mauritius stamps cancelled at the Seychelles, this being the earliest one recorded and hence the first cover from Zanzibar bearing adhesives for pre-paid delivery. A very important postal history item from Zanzibar. Notes: The Universities' Mission archives note that Mauritius adhesives were the only stamps available in this time frame. Rufus Green & Company began trading in Zanzibar in 1852 and were an important player in breaking the near monopoly held by Salem traders for trade between the United States & Zanzibar.
Please note that we are still working on adding images for the lots. If the lot you are interested in does not have images available yet, we invite you to check again in a few days.
If you still cannot find the images you are looking for in a few days, please send us a message. Important: don't forget to mention the lot number(s).
Thank you for your understanding.