Lot 30008 –
1858 (May 26) Incoming folded entire from forwardi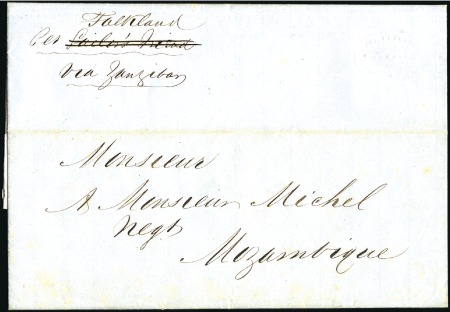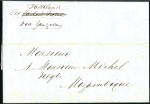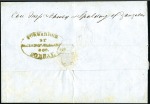 Lot 30008 –
1858 (May 26) Incoming folded entire from forwardi
Zanzibar » Pre-Post Office Period (Pre-1875)
Estimate
3'000 – 4'000 EUR
Auction date
Tue 2 Dec 2014 at 15:00 (Europe/Zurich)
1858 (May 26) Incoming folded entire from forwarding agents Dossabhoy & Merwanji & Co.of Bombay sent to Antoine Michel, an agent at Mozambique, with forwarders cachet and embossed logo. The entire notes in manuscript "Per 'Falkland' via Zanzibar". The entire further notes in manuscript on the reverse "Care Messrs Cheney & Spalding of Zanzibar," previously unrecorded forwarding agents at Zanzibar. The letter requests that Michel "send 500 Ribaceira oranges on a box air tight … and a collection of well-selected sea shells …". Light horizontal crease, otherwise in very fine condition and very rare.
Please note that we are still working on adding images for the lots. If the lot you are interested in does not have images available yet, we invite you to check again in a few days.
If you still cannot find the images you are looking for in a few days, please send us a message. Important: don't forget to mention the lot number(s).
Thank you for your understanding.