Lot 30003 –
1850 Envelope from Chancellor Emile Kuhlmann of th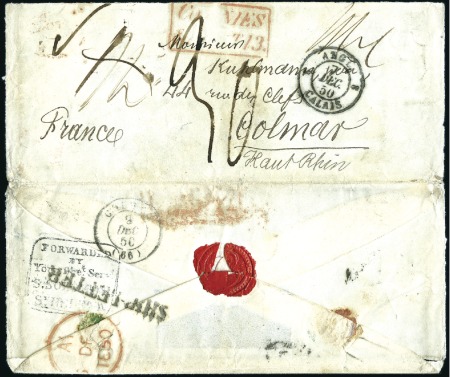 Lot 30003 –
1850 Envelope from Chancellor Emile Kuhlmann of th
Zanzibar » Pre-Post Office Period (Pre-1875)
Estimate
8'000 – 12'000 EUR
Auction date
Tue 2 Dec 2014 at 15:00 (Europe/Zurich)
1850 Envelope from Chancellor Emile Kuhlmann of the French Consulate at Zanzibar sent to his father at Colmar, France. The cover was sent via English mails noting straight-line hand-stamp "SHIP LETTER" originally charged "1/-2" in manuscript subsequently crossed out and "30" (decimes) applied. Only recorded Zanzibar pre-post office cover carried to Europe via Cape of Good Hope & St. Helena. At St Helena forwarded by "S. Solomon" noting boxed hand-stamp on reverse then sent through London (6 December) and Calais (9 December). One of only five covers known with the "S. Solomon" boxed forwarder's cachet. The envelope has been opened out for display. Note: This is the second earliest of the Kuhlmann correspondence. The French Consulate opened in 1844 at Zanzibar.
Please note that we are still working on adding images for the lots. If the lot you are interested in does not have images available yet, we invite you to check again in a few days.
If you still cannot find the images you are looking for in a few days, please send us a message. Important: don't forget to mention the lot number(s).
Thank you for your understanding.