Lot 10046 –
RAMAT HAKOVESH Registered cover No 0935, addressed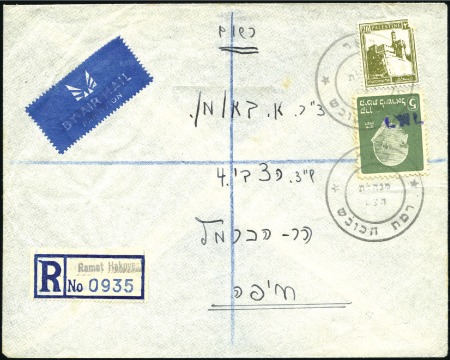 Lot 10046 –
RAMAT HAKOVESH Registered cover No 0935, addressed
Israel » Israel – Interim Period (1948)
Auction date
Mon 1 Dec 2014 at 10:00 (Europe/Zurich)
RAMAT HAKOVESH Registered cover No 0935, addressed to Haifa, locality's name handstamped on registry label. Mixed franking, 25 m (fault on 20m Mandate stamp), tied by 2x M.H. black cancels, repeated on back, plus Tel Aviv and Haifa tri-lingual backtamps May 16. Vertical fold away from stamps, vf and rare. Underpriced in Bale.
Please note that we are still working on adding images for the lots. If the lot you are interested in does not have images available yet, we invite you to check again in a few days.
If you still cannot find the images you are looking for in a few days, please send us a message. Important: don't forget to mention the lot number(s).
Thank you for your understanding.