Lot 10045 –
INTERIM PERIOD COVER to USA, May 18, 1948, QIRYAT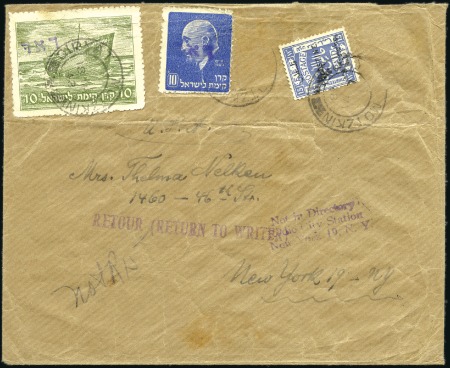 Lot 10045 –
INTERIM PERIOD COVER to USA, May 18, 1948, QIRYAT
Israel » Israel – Interim Period (1948)
Auction date
Mon 1 Dec 2014 at 10:00 (Europe/Zurich)
INTERIM PERIOD COVER to USA, May 18, 1948, QIRYAT MOTZKIN Mandate cancels, 3x, tying two Minhelet Ha'am stamps (20m) plus 13m Palestine Mandate (London) stamp. New York arrival backstamp July 6, 1948. 20m Correct rate, but not valid internationally, old Palestine stamp was added just in case! "Return to sender" handstamp applied in New York. Most unusual.
Please note that we are still working on adding images for the lots. If the lot you are interested in does not have images available yet, we invite you to check again in a few days.
If you still cannot find the images you are looking for in a few days, please send us a message. Important: don't forget to mention the lot number(s).
Thank you for your understanding.