Lot 10040 –
MA'ABAROT REGISTERED Cover to Czechoslovakia, May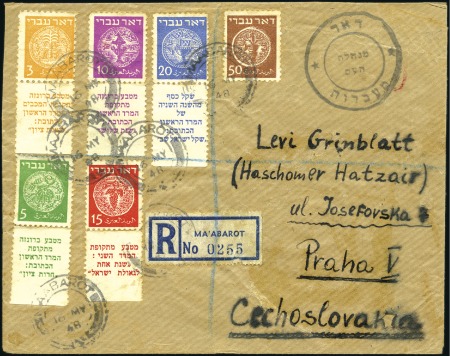 Lot 10040 –
MA'ABAROT REGISTERED Cover to Czechoslovakia, May
Israel » Israel – Interim Period (1948)
Auction date
Mon 1 Dec 2014 at 10:00 (Europe/Zurich)
MA'ABAROT REGISTERED Cover to Czechoslovakia, May 16, 1948 with first six Doar Ivri stamps (1-5 with tabs) all tied by 5x Mandate cancels, plus an additional MA'ABAROT Minhelet Ha'am cancel. Prague arrival cancel June 17. Most unusual international cover.
Please note that we are still working on adding images for the lots. If the lot you are interested in does not have images available yet, we invite you to check again in a few days.
If you still cannot find the images you are looking for in a few days, please send us a message. Important: don't forget to mention the lot number(s).
Thank you for your understanding.