Lot 10002 –
JERUSALEM 2 postmarks (22Mar14) tie 1-1/2 pi Turki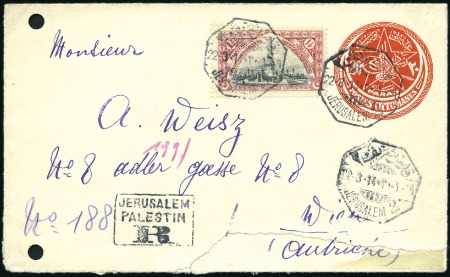 Lot 10002 –
JERUSALEM 2 postmarks (22Mar14) tie 1-1/2 pi Turki
Israel » Israel – Forerunners – Turkish Offices
Auction date
Mon 1 Dec 2014 at 10:00 (Europe/Zurich)
JERUSALEM 2 postmarks (22Mar14) tie 1-1/2 pi Turkish stamp to REGISTERED 20 pa Turkish Envelope sent to resident olf Vienna, Austria. Registered handstamp RC2 (Collins +600) on front, Port Said transit cancel on back. File holes and rough opening, but still scarce.
Please note that we are still working on adding images for the lots. If the lot you are interested in does not have images available yet, we invite you to check again in a few days.
If you still cannot find the images you are looking for in a few days, please send us a message. Important: don't forget to mention the lot number(s).
Thank you for your understanding.