Lot 10060 –
SHANGHAI: 1903 Cover sent from KULING to England e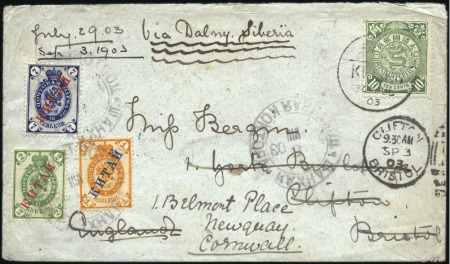 Lot 10060 –
SHANGHAI: 1903 Cover sent from KULING to England e
Russia » Russia Post in China
Estimate
1'800 – 2'400 EUR
Auction date
Wed 12 Dec 2012 at 10:00 (Europe/Zurich)
SHANGHAI: 1903 Cover sent from KULING to England endorsed "via Dalny. Siberia," franked with China 10c Dragon tied by Kuling 30.07.03 cds, sent via Kiukiang and Shanghai, where it was passed to the Russian P.O. and franked with "KITAI" 1k, 2k and 7k tied by Shanghai 5.8.03 (Tchilinghirian type 1, Gregorian calendar), sent overland via Chinese Eastern and Trans-Siberian railways, with Moscow, Bristol, Clifton and Newquay transits.
上海:1903年由牯岭寄英国,手写"经大连,西伯利亚",贴蟠龙10分,销牯岭圆戳(1903.7.30),经九江及上海,至俄国客邮局,贴俄国客邮1,2及7戈比票,销上海戳(1903.8.5)(Tchilinghirian 1型公历),经中东铁路及西伯利亚铁路,亦见销莫斯科,Bristol, Clifton and Newquay 日戳
Please note that we are still working on adding images for the lots. If the lot you are interested in does not have images available yet, we invite you to check again in a few days.
If you still cannot find the images you are looking for in a few days, please send us a message. Important: don't forget to mention the lot number(s).
Thank you for your understanding.