Lot 10037 –
PEKING: 1906 Cover registered to Tientsin franked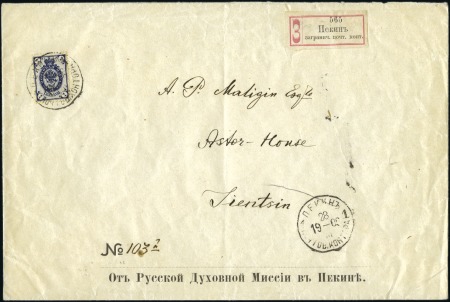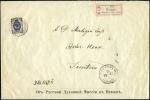 Lot 10037 –
PEKING: 1906 Cover registered to Tientsin franked
Russia » Russia Post in China
Auction date
Wed 12 Dec 2012 at 10:00 (Europe/Zurich)
PEKING: 1906 Cover registered to Tientsin franked with ordinary Russian 7k tied by Peking 28.3.06 cds (T&S type 6) paying the reg'n fee on the obverse and Imperial Eagle free-frank seal on the reverse reading "Imperial Russian Ecclesiastical Mission to China," reg'd label in Cyrillic on obverse, a rare free franking.
北京:1906年挂号封寄天津,贴俄国7戈比票销北京圆戳(1906.3.28)(T&S 6型),背贴皇室鹰图免费票,另贴挂号标签,罕见的免费票使用纪录
Please note that we are still working on adding images for the lots. If the lot you are interested in does not have images available yet, we invite you to check again in a few days.
If you still cannot find the images you are looking for in a few days, please send us a message. Important: don't forget to mention the lot number(s).
Thank you for your understanding.