Lot 40165 –
1900 (Sept 10) Red ban cover to Remaufens (Switzerland), rare usage of Chungkiang cds on unoverprinted French stamp
Lot 40165 –
1900 (Sept 10) Red ban cover to Remaufens (Switzerland), rare usage of Chungkiang cds on unoverprinted French stamp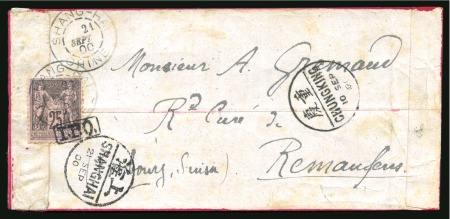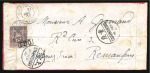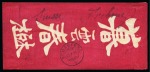 Lot 40165 –
1900 (Sept 10) Red ban cover to Remaufens (Switzerland), rare usage of Chungkiang cds on unoverprinted French stamp
China » Foreign Post Offices » French Post Offices
Auction date
Wed 16 Jun 2021 at 10:00 (Europe/Zurich)
1900 (Sept 10) Red band cover to Remaufens (Switzerland), showing "CHUNGKING" (dispatch cds) and "Shanghai" bilingual cds's, franked by Type Sage 25c black on rose, tied by "SHANGHAI/CHINE" cds and VERY RARE framed "I.P.O." tie print of ICHANG (16 x 7 mm) applied in transit. This IPO tie print is rated by Webb as "RRR" (5 or less known) and is PROBABLY UNIQUE ON FRENCH STAMP.
Please note that we are still working on adding images for the lots. If the lot you are interested in does not have images available yet, we invite you to check again in a few days.
If you still cannot find the images you are looking for in a few days, please send us a message. Important: don't forget to mention the lot number(s).
Thank you for your understanding.