Lot 40152 –
1896 (March 19) Cover from Peking to Belgium, fully prepaid by China 1894 6ca and 12ca, in combination with overprinted Sage 25c pair
Lot 40152 –
1896 (March 19) Cover from Peking to Belgium, fully prepaid by China 1894 6ca and 12ca, in combination with overprinted Sage 25c pair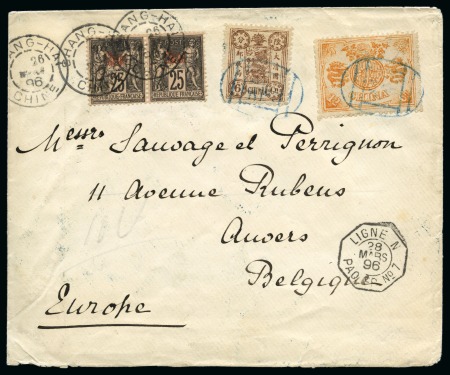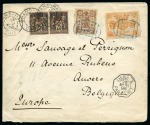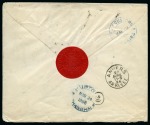 Lot 40152 –
1896 (March 19) Cover from Peking to Belgium, fully prepaid by China 1894 6ca and 12ca, in combination with overprinted Sage 25c pair
China » Foreign Post Offices » French Post Offices
Estimate
2'500 – 3'000 EUR
Auction date
Wed 16 Jun 2021 at 10:00 (Europe/Zurich)
1896 (March 19) Cover from Peking to Antwerp (Belgium), sent by the Belgian Legation in China as confirmed by corresponding red paper seal on back, fully prepaid by China 1894 6ca and 12ca (Chan 27, 29), tied by blue Peking chop, struck with "I.G. OF CUSTOMS/PEKING" (19.3) and "CUSTOMS/SHANGHAI" (24.3) cds's -both in blue- on reverse, entering the French P.O. with overprinted Sage 25c pair on front, tied by "SHANG-HAÏ/CHINE" cds's (26.3), alongside showing octagonal "LIGNE N/PAQ. FR. N°7" ds, backstamped on arrival; a very rare combination franking paying the double rate, further enhanced by the rare destination, with only 11 covers recorded bearing 'Dowager' and surcharged issues sent from China (regardless of the P.O.); (Tony Kwan census A1896-037, offered for the last time at auction on 11.10.1986).
Please note that we are still working on adding images for the lots. If the lot you are interested in does not have images available yet, we invite you to check again in a few days.
If you still cannot find the images you are looking for in a few days, please send us a message. Important: don't forget to mention the lot number(s).
Thank you for your understanding.