Lot 10470 –
1804, Oct. 11. Ship's register cover of the "Sacra Familia" frigate s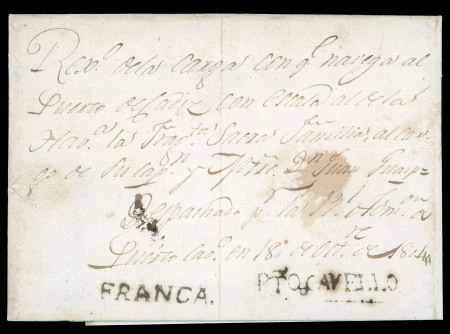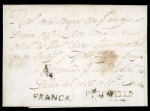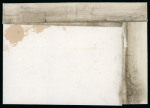 Estimate
2'000 – 3'000 EUR
Auction date
Thu 1 Jun 2023 at 16:30 (Europe/Zurich)
2d 5h 17m 55s
before pre-bidding ends
Description:
THE UNIQUE SHIP'S REGISTER COVER FROM VENEZUELA
1804 (Oct 11). Ship's register cover of the "Sacra Familia" frigate sailing from Puerto Cabello to Cádiz (Spain), very attractively and freshly postmarked by "Franca." and "Pto.Cavello" straight-line hs. As required, following the postal regulations, ship's register covers had to be prepaid from 1784 to 1853. An exhibition item of great significance: the only colonial ship's register cover documented as originating from Venezuela. It has to be additionally noted that only three postal items of this nature are recorded emanating from South America; a further degree of rarity is conferred by the combination, one of just two known, with the "Franca" and "Pto.Cavello" postmarks (this being the earliest usage documented).
Provenance: Kouri and Sitjà.