Lot 10389 –
1767, March 21. Entire letter from Buenos Aires to Cádiz, carried via Portugal a
Lot 10389 –
1767, March 21. Entire letter from Buenos Aires to Cádiz, carried via Portugal a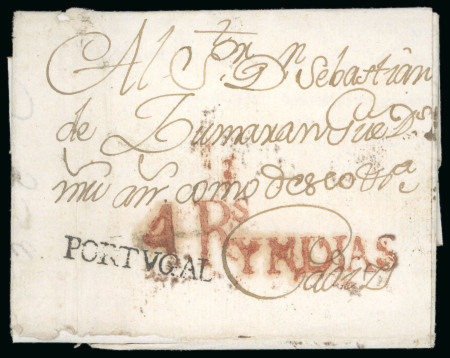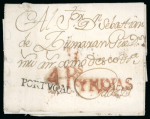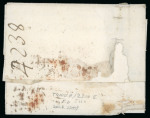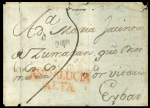 Lot 10389 –
1767, March 21. Entire letter from Buenos Aires to Cádiz, carried via Portugal a
Argentina » Outgoing Mail
Estimate
3'000 – 5'000 EUR
Auction date
Thu 1 Jun 2023 at 16:30 (Europe/Zurich)
THE EARLIEST EXAMPLE KNOWN OF ANY OF THE EXTENSIVELY USED "YNDIAS" HANDSTAMPS
1767 (March 21). Entire letter from Buenos Aires to Cádiz, carried via Portugal as denoted by the black "Portvgal" entry postmark applied at Badajoz in Spain, following application of "Yndias" straight-line and "4.Rs" due marking, both struck in red on arrival. From Cádiz, the letter, after being turned, was re-addressed inland to Eibar in Northern Spain, charged in manuscript at 5 cuartos and bearing "Andalucia/Alta" two-line handstamp in red. The earliest known cover displaying any of the extensively used "Yndias" markings; its attractiveness is further augmented by the fact of being one of just three Spanish colonial letters recorded carried via Portugal.
Provenance: Sitjà.
Please note that we are still working on adding images for the lots. If the lot you are interested in does not have images available yet, we invite you to check again in a few days.
If you still cannot find the images you are looking for in a few days, please send us a message. Important: don't forget to mention the lot number(s).
Thank you for your understanding.