Lot 30271 –
1875, 45 sen syll. i (1) on foreign cover. THE UNIQUE "BIRD" 45 SEN COVER REGISTERED FROM KOREA AND SENT ABROAD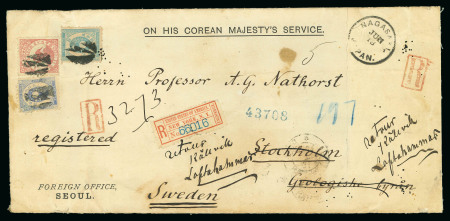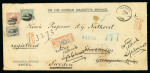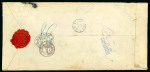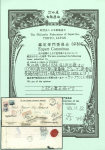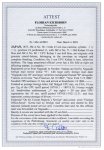 Lot 30271
Japan » 1875, Bird Design Stamps
Price realised
26'000 EUR
Estimate
15'000 – 25'000 EUR
Auction date
Sat 3 Jun 2023 at 09:30 (Europe/Zurich)
Description:
THE UNIQUE "BIRD" 45 SEN COVER FROM KOREA AND SENT REGISTERED TO A FOREIGN DESTINATION
1875, 45 sen rose-carmine, syllabic 1 (i), perforation 11, position 19, in combination with "Old Koban" 10 sen blue and "UPU Koban" 5 sen dull blue (torn), used on registered cover to Stockholm, Sweden, redirected inland to Loftahammar, pre-printed with "On His Corean Majesty's Service." and "Foreign Office, Seoul." endorsements. Each stamp tied by negative "N" initial handstamp of Nagasaki applied on foreign mail, with associated large "Nagasaki Jun 18" cds and red framed "R" alongside, with transit backstamps including "San Francisco Jul 10 1884″," New York 7-19 1884″, Swedish T.P.O. cds on 31 July and arrival at Stockholm on 1st August. Filing fold at right not affecting the franking. Certs Philatelic Federation of Japan, signed by Dr. Sawa (2014), Florian Eichhorn BPP (2023).
Note: The 60 sen postage included 50 sen to pay the U.P.U. rate corresponding to the quintuple weight, and the additional 10 sen for the U.P.U. registration fee. The envelope, despite being endorsed "On His Majesty's Service", was dispatched when Korea had not established its first national postal service yet, as it started four months after this cover was mailed. Consequently this cover was carried privately to Nagasaki, to be posted in Japan for onward transmission.
Only eight covers are recorded bearing the highest denomination of the "Bird" Issue, of which one is not complete and another one, with incomplete franking, is additionally located in a museum; consequently only six are complete. This example must be regarded as the most significant bearing the 45 sen for the following reasons: a unique cover originating from abroad, one of just three known being registered (being unique with syllabic 1), as well as one of three sent abroad – only two are documented with the combination of the postal registration and the external destination.
This item may be also regarded as a forerunner of the Korean postal service and one of the most significant items of Korean postal history.
Census of the "Bird" 45 sen covers:
-The example presented here
-Single syllabic 1 with "Cherry Blossom" 1 sen & 2 sen (2) and missing stamps including one "Bird" 15 sen, part of cover front showing the addressee's panel complete, 1875, locally posted in Yokohama, ex Agathon Fabergé
-Single syllabic 1 with "Cherry Blossom" 5 sen & 20 sen, 2.6.1878, Yokohama to Shanghai, in the Ota Katsumi collection
-Single syllabic 1 with "Cherry Blossom" 6 sen and "Old Koban" 1s sen & 2 sen, 11.1879, sent to Tokyo, ex H. G. Fletcher
-Single syllabic 1 with "Old Koban" 1 sen and 10 sen, ca. 1878, Wakayama to Tanabe, ex Henry W. Moser
-Single of syllabic 1 used on 1876 registered cover Tokyo to Berlin/Germany, in an anonymous collection, Germany
-Block of five syllabic 1, with "Cherry Blossom" 20 sen and missing stamps, 1884, Yokohama to Berlin, in the Kanai collection (The Philatelic Culture Museum)
-Single syllabic 3 with "Birds" 15 sen "Cherry Blossom" 20 sen, and "Old Koban" 2 sen violet, 11.2.1882, registered from Yokohama to Bavaria, Christoph Gaertner auction May 30 2016, lot 119
-Single syllabic 2 with "Old Koban" 5 sen, 30.4.1887, registered inland from Tokyo-Azabu to Usuki, Bungo Province
Catalogue reference:
38 (1), 71, 80