Lot 30201 –
1874, 20 sen reddish violet, native paper, syllabic 1 (i). ONE OF THE GREATEST GEMS OF JAPANESE AND ASIAN PHILATELY
Lot 30201 –
1874, 20 sen reddish violet, native paper, syllabic 1 (i). ONE OF THE GREATEST GEMS OF JAPANESE AND ASIAN PHILATELY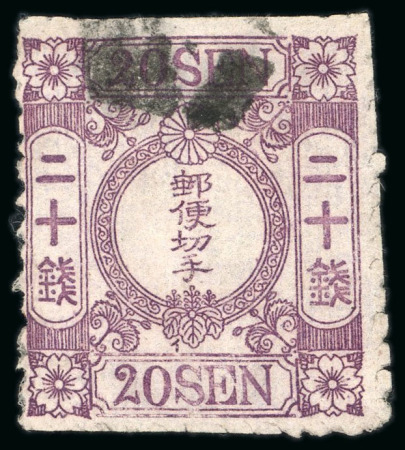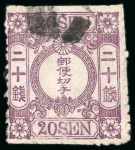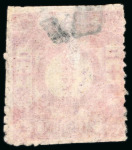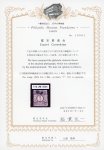 Lot 30201 –
1874, 20 sen reddish violet, native paper, syllabic 1 (i). ONE OF THE GREATEST GEMS OF JAPANESE AND ASIAN PHILATELY
Japan » 1874, Cherry Blossoms, Native Paper, with syllabics
Price realised
180'000 EUR
Estimate
100'000 – 150'000 EUR
Auction date
Sat 3 Jun 2023 at 09:30 (Europe/Zurich)
ONE OF THE GREATEST GEMS OF JAPANESE AND ASIAN PHILATELY
1874, 20 sen reddish violet, syllabic 1 (i), with the usual "sumi-ten" ink spot. Possessing original gum, a remarkably vivid colour and very clear impression, with full to large margins. Perforations partly trimmed by scissors. Cert. Philatelic Museum Expert Committee (2015).
Only five examples of 20 sen syllabic 1 (i) are believed to exist according to the Yamazaki Yoshiyuki (Narumi 2018) handbook where all the existing examples are illustrated, all with normal "sumi ten" ink spot. Only three examples are sound, of which two are in private hands. One of the greatest gems of Japanese and Asian philately, as well as an "aristocrat" of worldwide rarities. The JHES considers this stamp to be the biggest challenge among all "Tebori" Issues (Hand Engraved Issues 1871-1876) -see 2007 catalogue on page 24-. This value is reported in volume 3 of "Philatelic Gems" by Linn's. (JSCA ¥30,000,000; Michel 23y plate 1 €260,000).
Before the discovery of two previously unknown examples in 1994 (one of them being this lot), four were recorded, of which two are in bad condition. An additional example in the J. H. Crocker collection was destroyed in 1906 in San Francisco, as a consequence of the earthquake and subsequent fire, which devastated the city -fortunately most of his collection of Hawaii escaped from the catastrophe as it was displayed in an international exhibition in London-. Of the two examples in bad condition: one was part of the Mr. Fujio collection and was damaged by sea water in Kamakura (Japan), as a result of a flood following the earthquake of 1923; the other example in bad condition was discovered in the H. G. Fletcher collection in 1927 (which bears the same supplementary black handstamp at top).
In the Alfred H. Caspary sale no. 16 (H. R. Harmer, New York, 28-29.10.1958), an example of this stamp was offered as lot 383 "the rarest stamp of Japan", which was sold for a hammer price of US$3,600 (not including buyer's premium), the highest price ever realized to that date for a single stamp of Japan. This stamp nowadays belongs to the Kanai Hiroyuki collection (The Philatelic Culture Museum, Kobe, Japan), and prior to Mr. Caspary, it graced the Stoltz collection.
Provenance (discovered in 1994):
Takahashi private treaties of 1995 (lot 41), offered at ¥18,000,000
Please note that we are still working on adding images for the lots. If the lot you are interested in does not have images available yet, we invite you to check again in a few days.
If you still cannot find the images you are looking for in a few days, please send us a message. Important: don't forget to mention the lot number(s).
Thank you for your understanding.