Lot 30170 –
1872, 20 sen government printing, THE ONLY MULTIPLE IN PRIVATE HANDS AND THE EARLIEST RECORDED USAGE OF THE SCARCEST CATALOGUE-NUMBER STAMP OF JAPANESE PHILATELY
Lot 30170 –
1872, 20 sen government printing, THE ONLY MULTIPLE IN PRIVATE HANDS AND THE EARLIEST RECORDED USAGE OF THE SCARCEST CATALOGUE-NUMBER STAMP OF JAPANESE PHILATELY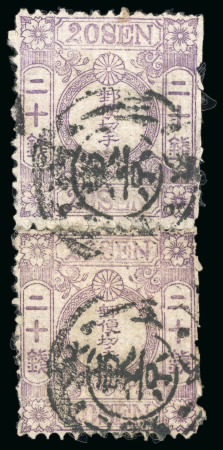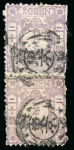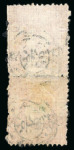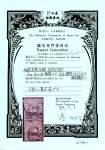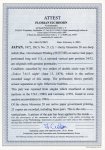 Lot 30170 –
1872, 20 sen government printing, THE ONLY MULTIPLE IN PRIVATE HANDS AND THE EARLIEST RECORDED USAGE OF THE SCARCEST CATALOGUE-NUMBER STAMP OF JAPANESE PHILATELY
Japan » 1872, Cherry Blossoms Native Paper
Price realised
160'000 EUR
Estimate
120'000 – 180'000 EUR
Auction date
Sat 3 Jun 2023 at 09:30 (Europe/Zurich)
THE ONLY MULTIPLE IN PRIVATE HANDS AND THE EARLIEST RECORDED USAGE OF THE SCARCEST CATALOGUE-NUMBER STAMP OF JAPANESE PHILATELY
1872, 20 sen deep reddish lilac, Government printing with long tool perforation 11, native laid paper, vertical rejoined pair from positions 24 / 32, exhibiting an appealing centring. Perforations a bit trimmed by scissors at right, showing two strikes of "Tokyo 7.6.13 night" (June 13, 1874) type N1B1 cds. Certs. Philatelic Federation of Japan (2009) and Florian Eichhorn BPP (2023).
THE EARLIEST RECORDED USAGE OF THE SCARCEST CATALOGUE NUMBER OF JAPANESE PHILATELY. Irrefutably one of the most important items of Japanese philately and a worldwide philatelic gem.
Neither unused stamps nor usages on cover have been reported of the 20 sen Government Printing. ONLY TWENTY-ONE EXAMPLES OF THIS STAMP ARE RECORDED, WITH ONLY THREE PAIRS KNOWN AND THIS BEING UNIQUE IN PRIVATE HANDS. THIS IS THE LARGEST MULTIPLE IN EXISTENCE. (JHES pair ¥50,000,000).
Note:
This stamp was issued on 3 October 1872 and it was valid until 30 November 1889. The quantity of issued stamps is unknown, and despite the long period of validation, this had to be very low as confirmed by the number of surviving examples.
This pair could be rejoined from singles which had resurfaced at auctions in the United States (1989) and Germany (1990). The former, being position 32, was bought for US$88,000 by the Japanese auctioneer Mr. Tai Michiharu; the latter, position 24, previously emerged but "hidden" as part of a collection sold in a Swiss auction in 1984, which was bought and found by the Great Britain dealer Mr. Herbert Goldsmith, to be offered as a single lot in the Schwanke auction of Hamburg in 1990. The perforations at base of the upper stamp and at top of the lower stamp perfectly match in-between, as does the shape of the datestamp of Tokyo, demonstrating that it was originally used as a pair. This discovery was made public for the first time during the international stamp exhibition "Philanippon 1991" by Mr. Tai. These two examples were later sold as singles again.
Provenance:
Shirai Tsugumi (only position 24 of this rejoined pair)
Narumi auction in Japex 1990, 25.11.1990, lot 29, sold for ¥16,611,000 or circa €180,000 (position 32 in this rejoined pair)
Post offices of usages of the 21 examples recorded:
-Wakamatsu: 1 example
-Fukushima: 2 examples
-Kubota (Akita): 4 examples
-Tokyo: 5 examples
-Tsuruga: 9 examples
Census of the multiples:
-Horizontal pair, positions 21-22, in the Kanai collection (The Philatelic Culture Museum)
-Vertical pair, in the Mitsui Bunko Foundation Museum
-Vertical pair, positions 24/32, ex Yamada Yuji (the example presented here)
Please note that we are still working on adding images for the lots. If the lot you are interested in does not have images available yet, we invite you to check again in a few days.
If you still cannot find the images you are looking for in a few days, please send us a message. Important: don't forget to mention the lot number(s).
Thank you for your understanding.