Lot 30769 –
10s gray-blue, with perfect "S" in Postage from plate
Lot 30769 –
10s gray-blue, with perfect "S" in Postage from plate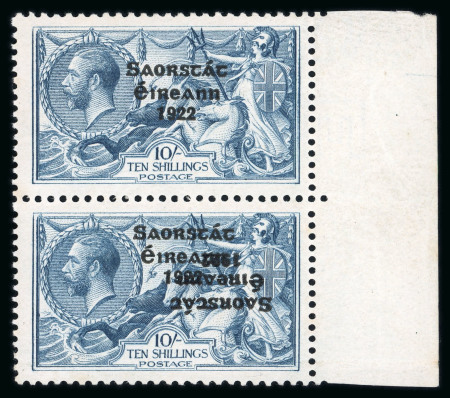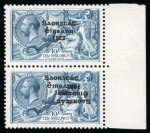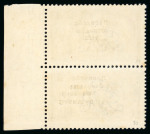 Lot 30769 –
10s gray-blue, with perfect "S" in Postage from plate
Ireland » 1925 Narrow Date Overprints (T66-T68)
Estimate
1'000 – 1'500 GBP
Auction date
Wed 6 Dec 2023 at 12:00 (Europe/Zurich)
6d 7h 22m 0s
before pre-bidding ends
10s gray-blue, with perfect "S" in Postage, mint right sheet marginal vertical pair, position R8/4 showing Double overprint, one inverted error, fresh, very fine, and a spectacular showpiece. Hibernian T68ca; €2'100. Provenance: Bill Fletcher.
.
Note: One sheet of 40 showing alternative rows of overprint double, one inverted is recorded. The "Narrow" date high values were overprinted in a two-operation process, however, the double overprint sheet was passed through the press a third time, but the wrong way round. The result is a double inverted overprint on even rows, hence, two such overprints were produced. The status of this error is considered dubious, either overprint in error or deliberately.
Please note that we are still working on adding images for the lots. If the lot you are interested in does not have images available yet, we invite you to check again in a few days.
If you still cannot find the images you are looking for in a few days, please send us a message. Important: don't forget to mention the lot number(s).
Thank you for your understanding.