Lot 30531 –
The Famous Window Man 1829 (January 19th) Window Man
Lot 30531 –
The Famous Window Man 1829 (January 19th) Window Man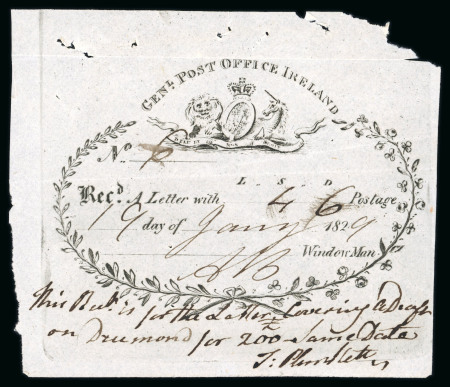 Lot 30531 –
The Famous Window Man 1829 (January 19th) Window Man
Ireland » Pre-Stamp Postal History » Unified Post Period
Estimate
1'200 – 1'600 GBP
Auction date
Wed 6 Dec 2023 at 12:00 (Europe/Zurich)
6d 6h 54m 36s
before pre-bidding ends
The Famous Window Man
1829 (January 19th) Window Man without sun rays being the smaller type two, a receipt for a money letter "No. 6 Recd A Letter with S4 D6 Postage 19 day of Jany. 1829 AB Window Man", initialled Arthur Baker, annotated in ink by the sender; "This Rect. Is for the Letter covering a Draft on Drummond for 200£ same Date T. Plunkett", a wonderful example of the popular Window Man.
One of only two usages from the year of 1829.
Note: This is contemporary proof of use for what was then understood as Secured Delivery Mail.
Please note that we are still working on adding images for the lots. If the lot you are interested in does not have images available yet, we invite you to check again in a few days.
If you still cannot find the images you are looking for in a few days, please send us a message. Important: don't forget to mention the lot number(s).
Thank you for your understanding.