Lot 30475 –
The earliest recorded Free for the whole of the British Isles
Lot 30475 –
The earliest recorded Free for the whole of the British Isles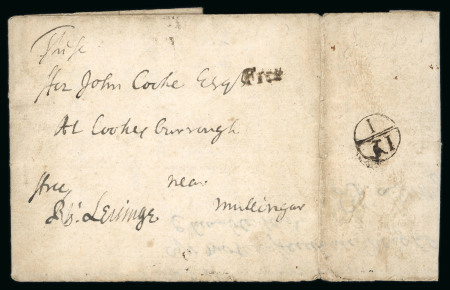 Lot 30475 –
The earliest recorded Free for the whole of the British Isles
Ireland » Pre-Stamp Postal History » Early Period
Estimate
1'500 – 2'000 GBP
Auction date
Wed 6 Dec 2023 at 12:00 (Europe/Zurich)
6d 6h 56m 59s
before pre-bidding ends
The earliest recorded Free for the whole of the British Isles
1707 (July 1st) Folded entire sent to "John Cooke Esq At Cookesborough near Mullingar", with free frank manuscript "ffree Rch. Levinge", showing the first type small Dublin Free handstamp in black, Bishop mkg 1Y/1 applied on reverse, very fine and one of the most important items showing the Free handstamp, a superb showpiece.
One of the three recorded first type Free handstamps.
Please note that we are still working on adding images for the lots. If the lot you are interested in does not have images available yet, we invite you to check again in a few days.
If you still cannot find the images you are looking for in a few days, please send us a message. Important: don't forget to mention the lot number(s).
Thank you for your understanding.