Lot 20057
Mauritius » 1848-59 Post Paid Issue » Early Impressions (SG 6-9)
Lot 20057 –
UNIQUE FRANKING: 1848-59 Post Paid 1d red, early impression, HORIZONTAL STRIP OF THREE on 1854 folded letter sheet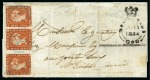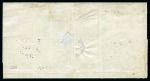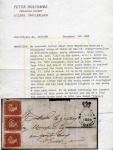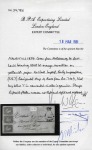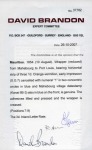 Estimate:
20'000 – 30'000 GBP
Auction date:
Tue 30 Jun 2020 at 14:00:00 (Europe/Zurich)
Auction:
2020 Spring Auctions
Catalog:
Mauritius
Sold for GBP 24'000
Description:
A UNIQUE FRANKING
1d red, HORIZONTAL STRIP OF THREE, position 7-9, close to very large uneven margins, all cancelled by blue numeral '1' in two concentric circles, on 1854 folded letter sheet sent locally from Mahebourg to Port Louis, showing 'MAURITIUS/GPO' crowned ds and blue bevelled framed 'Mahebourg/AU.10.1857' ds, some cover faults and creases, a very important showpiece, this being the only such franking recorded
This is possibly the finest 1d Post Paid cover on the basis of colour and shade
Rate: 3d inland letter rate. As per ordinance No. 8 and 9 of 1850, (No.8) postage on a letter not exceeding 1/2 ounce from a rural post town or village to Port Louis was 2d and (No.9) 1d was added for Town postage within Port Louis regardless of weight.
Provenance: Ibbotson
Schindler
Vikram Chand
Expertise: Cert. Peter Holcombe (1988), BPA (1991) and David Brandon (2007)
SG 7