Lot 10202 –
UNIQUE USAGE OF THE BAGERI ISSUE TO A FOREIGN DESTINATION1868-70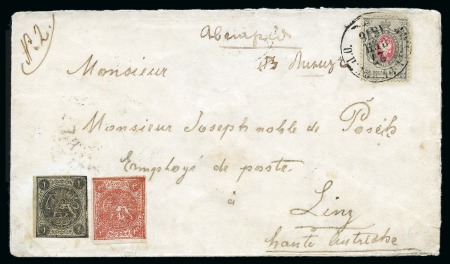 Lot 10202
Persia » 1868-1879 Nasr ed-Din Shah Lion Issues » 1876 Narrow Spacing (SG 15-19) (Persiphila 13-17)
Price realised
12'000 EUR
Estimate
15'000 – 20'000 EUR
Auction date
Mon 30 Nov 2020 at 14:00 (Europe/Zurich)
Description:
A UNIQUE USAGE
1876 1sh. black and 4sh. dull red, applied but uncancelled to the front of an envelope from Teheran addressed by Gustav Riederer to Joseph noble de Posch, Senior Postmaster in Linz, Austria, in combination with Russia Arms 8k tied JOULFA/27.SEP.1876 cds, showing fine array of transit and arrival bs and Gustav Riederer personalized wax seal alongside, an important exhibition showpiece, neatly mounted and written up on an exhibition page
Rarity: One of only five recorded mixed franking covers recorded
Note: Gustav Riederer, was a senior official of the Austrian Post, to be dispatched to Persia. He arrived in Tehren in February 1875 and was appointed Postmaster General in 1876. Riederer had a significant role in the establishment and advancement of the Persian Postal system, and was instrumental in Persia joining the UPU.
Catalogue reference:
Persiphila 13+15