Lot 10088 –
1861 (Apr 24). Envelope from Kingston to a Major in the 77th Regiment in India with 1859 6d dull lilac pair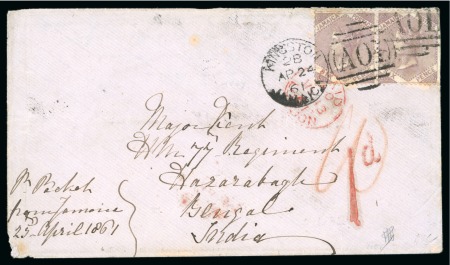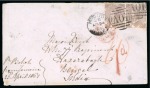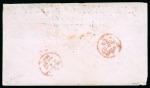 Lot 10088 –
1861 (Apr 24). Envelope from Kingston to a Major in the 77th Regiment in India with 1859 6d dull lilac pair
Jamaica
Date de vente
mer. 13 oct. 2021 at 15:00 (Europe/Zurich)
1861 (Apr 24). Envelope from Kingston to a Major in the 77th Regiment in India, with 1859 6d dull lilac pair tied by Kingston « A01 » duplex, put onboard RMSPC « Thames » to St. Thomas and transferred to SS « La Plata » to Southampton, via London with « 1d » accountancy hs for inland rate debited to Jamaica and ms « 10 » for carriage to India, carried by P&O steamer arriving in Calcutta JU 26 1861, one stamp with trimmed perfs at right, fine and rare first issue cover to India.
Please note that we are still working on adding images for the lots. If the lot you are interested in does not have images available yet, we invite you to check again in a few days.
If you still cannot find the images you are looking for in a few days, please send us a message. Important: don't forget to mention the lot number(s).
Thank you for your understanding.