Lot 10011 –
France. 1872. Cover from Santander, Spain (with commercial cachet on reverse) to Veracruz, with two 1867 80c and two 1871 20c type I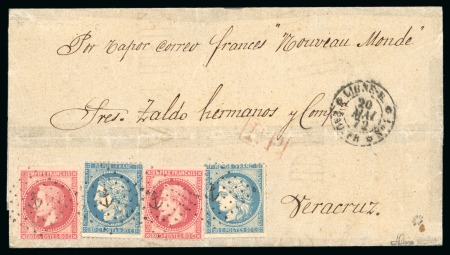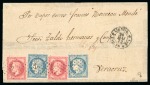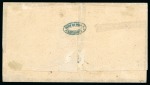 Lot 10011 –
France. 1872. Cover from Santander, Spain (with commercial cachet on reverse) to Veracruz, with two 1867 80c and two 1871 20c type I
Mexico » Incoming Mail
Date de vente
mer. 13 oct. 2021 at 15:00 (Europe/Zurich)
France. 1872. Cover from Santander, Spain (with commercial cachet on reverse) to Veracruz, with two 1867 80c and two 1871 20c type I, tied by neat anchor dotted lozenges, most likely posted onboard French Line B SS « Nouveau Monde with « LIGNE B / PAQ. FR. No. 1 » cds adjacent, no arrival; strengthened by archival tape internally, an attractive franking; signed J-F Brun, Roumet and Calves.
Please note that we are still working on adding images for the lots. If the lot you are interested in does not have images available yet, we invite you to check again in a few days.
If you still cannot find the images you are looking for in a few days, please send us a message. Important: don't forget to mention the lot number(s).
Thank you for your understanding.