Lot 40139
China » Foreign Post Offices » French Post Offices
Lot 40139 –
1881 Cover to Germany bearing Type Sage 5c & 30c in a very rare combination with the complete set of the first Chinese issue.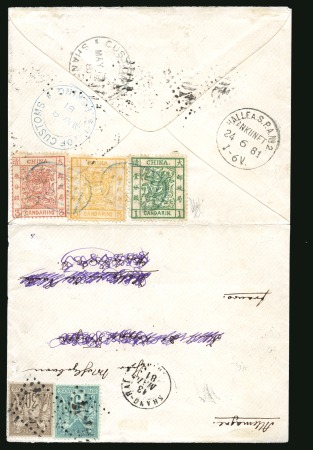 Description:
1881 (May 8) Cover (opened for display) to Halle (Germany), fully prepaid on departure with, on reverse, China 1878 Large Dragons thin paper 1ca (one short corner perf.), 3ca and 5ca (Chan 1-3), tied by blue Peking seal cancel, with matching « I.G. OF CUSTOMS/PEKING » cds, « CUSTOMS/SHANGHAI » (13.5) and arrival cds's also on back, where offsets of the « 5104 » lozenge are also found, entering the French P.O. with Type Sage 5c and 30c on front, tied by dotted « 5104 » cancel with matching « SHANG-HAÏ/CHINE » cds at left; addressee erased, a very rare combination cover including the complete set of the first Chinese issue; signed Holcombe.
Provenance: Mochi (CHF15'000 hammer price by David Feldman, lot 40612, Oct. 1984).
Yvert Y&T 64, 69