Lot 61534 –
1818 (Aug. 15) Entire letter from Rio de Janeiro to Papal States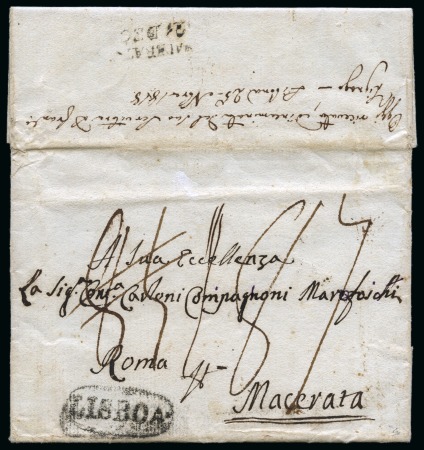 Lot 61534 –
1818 (Aug. 15) Entire letter from Rio de Janeiro to Papal States
Brazil » Postal History
Date de vente
jeu. 17 juin 2021 at 18:00 (Europe/Zurich)
1818 (Aug. 15) Entire letter from Rio de Janeiro to Macerata (Papal States), carried via Lisbon with oval « LISBOA. » hs and ms notation on reverse from a Italian forwarding agent in Lisbon « Oggi ricevuta ed incaminata dal Suo Servitore D. Franco. Lignago-Lisbona 25 Nvbre 1818 », arrival ds on 21 December (about four months after) struck adjacent, ms rate on front, a very rare transatlantic mail in this period.
Please note that we are still working on adding images for the lots. If the lot you are interested in does not have images available yet, we invite you to check again in a few days.
If you still cannot find the images you are looking for in a few days, please send us a message. Important: don't forget to mention the lot number(s).
Thank you for your understanding.