Lot 60005 –
1982 CHRISTMAS STAMP UNIQUE ERROR 30C with partly missing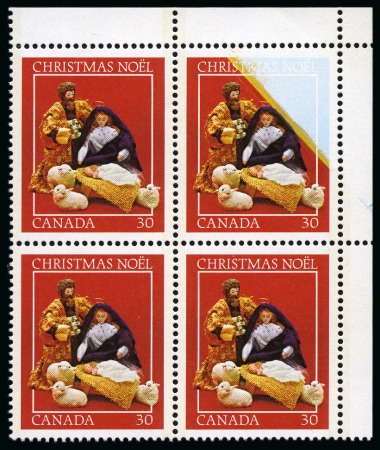 Lot 60005 –
1982 CHRISTMAS STAMP UNIQUE ERROR 30C with partly missing
Canada
Estimation
5'000 – 7'000 EUR
Date de vente
jeu. 6 juin 2019 at 18:00 (Europe/Zurich)
1982 CHRISTMAS STAMP UNIQUE ERROR
1982 30c with partly missing colours on top right example of a block of four – Magenta and Yellow were omitted after the Turquoise printing which is faintly evident in the portion of the stamp that was covered by the fold-over. The remainder of the stamp as well as the other stamps in the block have the normal printed colours. UNIQUE, never hinged and very fine.
The Scott catalogue mentions a variety where all colours except black have been omitted and lists this variety under number 973a. In the present case the error is quite different as turquoise is present where other colours are not.
This example has been in the possession of the same Canada stamp collector specialist since 1983.
MAJOR CANADA MODERN STAMP ERROR
Please note that we are still working on adding images for the lots. If the lot you are interested in does not have images available yet, we invite you to check again in a few days.
If you still cannot find the images you are looking for in a few days, please send us a message. Important: don't forget to mention the lot number(s).
Thank you for your understanding.