Lot 10216 –
1913 (Jun 8) 5pf official postal stationery card cancelled by « BERLIN / GRUNEWALD / DEUTSCHES / STADION » cds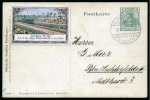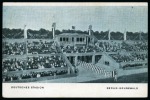 Lot 10216 –
1913 (Jun 8) 5pf official postal stationery card cancelled by « BERLIN / GRUNEWALD / DEUTSCHES / STADION » cds
Olympics » 1912-1916 Intervening Championships
Date de vente
mar. 4 juin 2019 at 10:00 (Europe/Zurich)
The Deutsches Stadion was built in 1913 in order to host the Olympic Games in Berlin in 1916. It was opened on 8 June 1913, on the occasion of Emperor Wilhelm's II Silver Jubilee. A series of postal stationery was commissioned by the German Sports Federation and a special cancellation was used at the Stadium's post office on the day of its inauguration. The post office was only open for 8 hours and the time of posting, which can be seen in the cancels after the date (12-1, 1-2, 2-3, 3-4, 4-5, 5-6, 6-7 and 7-8).
1913 (Jun 8) 5pf official postal stationery card of the stadium cancelled by « BERLIN / GRUNEWALD / DEUTSCHES / STADION » 8.6.13 12-1 V cds on the day of the inaugural day of the stadium, with official vignette of the stadium adjacent, fine and rare
Please note that we are still working on adding images for the lots. If the lot you are interested in does not have images available yet, we invite you to check again in a few days.
If you still cannot find the images you are looking for in a few days, please send us a message. Important: don't forget to mention the lot number(s).
Thank you for your understanding.