Lot 10165 –
1908 German Gymnastics Festival in Frankfurt silvered badge and ribbon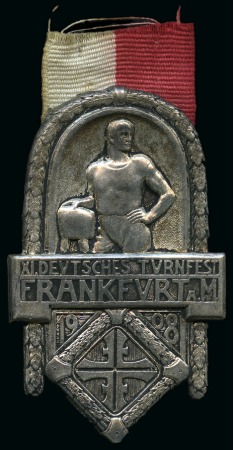 Lot 10165 –
1908 German Gymnastics Festival in Frankfurt silvered badge and ribbon
Olympics » Non-Olympic and Anti-Olympic Championships
Date de vente
mar. 4 juin 2019 at 10:00 (Europe/Zurich)
1908 German Gymnastics Festival in Frankfurt silvered badge and ribbon, depicting gymnast and horse above legend, date and logo, very fine and scarce.
Note: At the 1908 Olympics German gymnasts were instructed to only participate in the demonstration events (just as they had resisted to participate in previous Olympics). However 11 disobeyed the order and took part in the Games and 6 took part in the demonstrations (which were poorly attended)
Please note that we are still working on adding images for the lots. If the lot you are interested in does not have images available yet, we invite you to check again in a few days.
If you still cannot find the images you are looking for in a few days, please send us a message. Important: don't forget to mention the lot number(s).
Thank you for your understanding.