Lot 20057 –
1920, Camera di Commercio e Industria, 20 c. verde su busta per città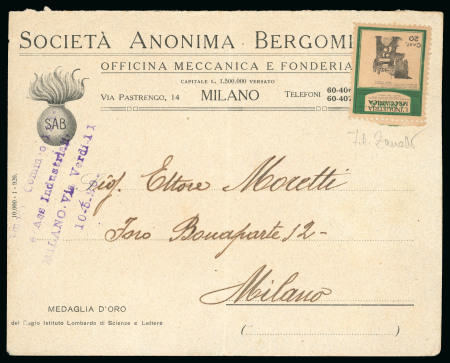 Lot 20057 –
1920, Camera di Commercio e Industria, 20 c. verde su busta per città
Italy » Corrieri di Milano
Date de vente
mar. 14 juin 2022 at 09:30 (Europe/Zurich)
1920, Camera di Commercio e Industria, 20 c. verde applicato su busta del 10 maggio per città, recante il timbro quadrilineare a data « Camera Comm e Ind/e Ass Industriali/Milano Via Verdi 11/10.5.20 ». Una delle solo quattro lettere note con questo valore, coprente la tariffa per città. Firmato F. A. Zanetti.
Please note that we are still working on adding images for the lots. If the lot you are interested in does not have images available yet, we invite you to check again in a few days.
If you still cannot find the images you are looking for in a few days, please send us a message. Important: don't forget to mention the lot number(s).
Thank you for your understanding.