Lot 20013 –
Destinazione rarissima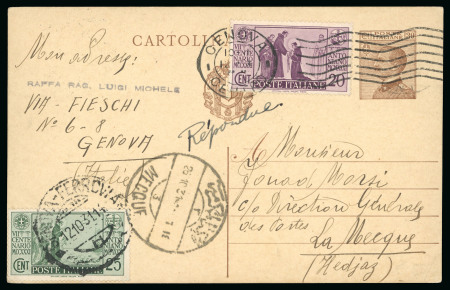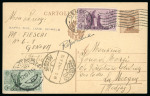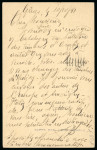 Lot 20013 –
Destinazione rarissima
Italy » Regno d'Italia
Date de vente
mar. 14 juin 2022 at 07:30 (UTC)
Description
1931, cartolina postale da 30 c. del 12.10 da Genova per La Mecca (Arabia Saudita), addizionalmente affrancata con San Antonio 20 c. e 25 c., con annullo di arrivo sul fronte. Destinazione rarissima.
Réf catalogue:
Sassone Sassone 292, 293
Please note that we are still working on adding images for the lots. If the lot you are interested in does not have images available yet, we invite you to check again in a few days.
If you still cannot find the images you are looking for in a few days, please send us a message. Important: don't forget to mention the lot number(s).
Thank you for your understanding.