Lot 20005 –
1871, periodico « La Selezione Microscopica » del 8 luglio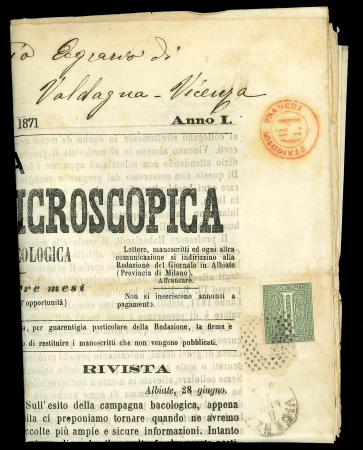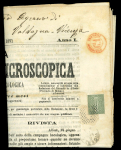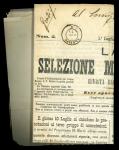 Lot 20005 –
1871, periodico « La Selezione Microscopica » del 8 luglio
Italy » Regno d'Italia
Date de vente
mar. 14 juin 2022 at 09:30 (Europe/Zurich)
1871, periodico « La Selezione Microscopica » del 8 luglio da Vicenza per Valdagno, affrancato con bollo « C.mi 1/Periodici Franchi » più 1 c. tipo DLR per formare la tariffa doppio porto, annullato con timbro a punti. In questo caso, quasi certamente, l'affrancatura mista deriva dal fatto che sottofascia erano contenute due copie del periodico e l'integrazione di affrancatura è stata applicata sul primo dei due esemplari.
Please note that we are still working on adding images for the lots. If the lot you are interested in does not have images available yet, we invite you to check again in a few days.
If you still cannot find the images you are looking for in a few days, please send us a message. Important: don't forget to mention the lot number(s).
Thank you for your understanding.