Lot 10063 –
10pa lilac-grey, tied on printed matter cover from the Tribunal de Première Instance sent locally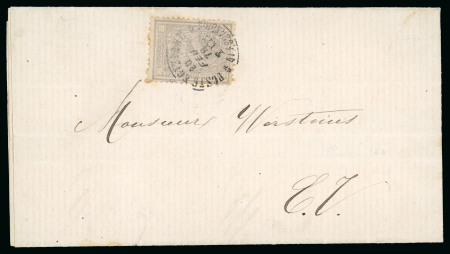 Lot 10063 –
10pa lilac-grey, tied on printed matter cover from the Tribunal de Première Instance sent locally
Egypt » 1874 Bulaq
Date de vente
lun. 13 juin 2022 at 15:00 (Europe/Zurich)
10pa lilac-grey, tied on printed matter cover from the Tribunal de Première Instance, Registrar of the Bureau des Faillites of the bankruptcy court to a local editor E.V. (« en ville »), a very fine and rare single franking.
Note: The rate for non-periodical printed matter such as greeting cards and legal documents was 10 paras per 40 grams to April 1, 1878, when the weight limit was increased to 50 grams.
Please note that we are still working on adding images for the lots. If the lot you are interested in does not have images available yet, we invite you to check again in a few days.
If you still cannot find the images you are looking for in a few days, please send us a message. Important: don't forget to mention the lot number(s).
Thank you for your understanding.