Lot 40134 –
1866, 500r orange, horizontal block of ten, some usual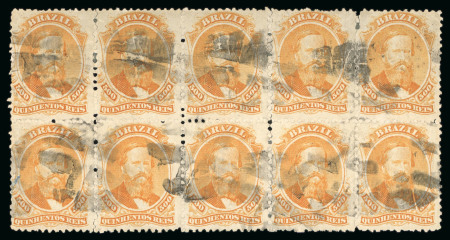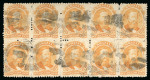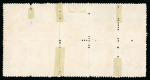 Lot 40134 –
1866, 500r orange, horizontal block of ten, some usual
Brazil » 1866-83 Dom Pedro » 1866 « Black Beard » Issue
Estimation
1'000 – 1'500 EUR
Date de vente
mar. 6 déc. 2022 at 17:00 (Europe/Zurich)
1866, 500r orange, horizontal block of ten, some usual hinge reinforcements along perforations and preserving many of the paper « holes » along perforations with some not touched by the cancellation by being on a slightly inferior level after the application of the pressing force which was not able to remove them, extremely fresh and fresh; the finest of three blocks of ten known, unique showing a postmark, being the third largest used multiple recorded.
Provenance: Angelo Lima and Dr. de Amaral Machado.
Please note that we are still working on adding images for the lots. If the lot you are interested in does not have images available yet, we invite you to check again in a few days.
If you still cannot find the images you are looking for in a few days, please send us a message. Important: don't forget to mention the lot number(s).
Thank you for your understanding.