Lot 50015 –
Bolivia – 1867-68 First Issue 10c Condor, the exceptional group of ten items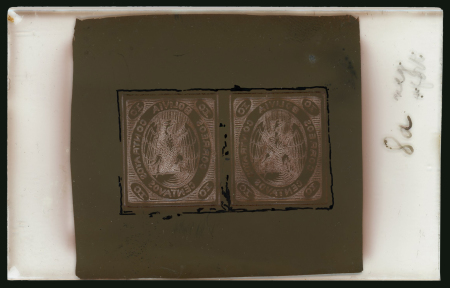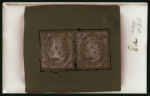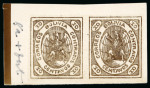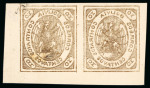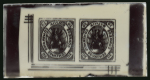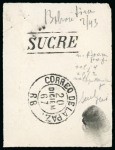 Lot 50015 –
Bolivia – 1867-68 First Issue 10c Condor, the exceptional group of ten items
Bolivia
Date de vente
mer. 7 déc. 2022 at 15:00 (Europe/Zurich)
Bolivia – 1867-68 First Issue 10c Condor, the exceptional group of ten items including two glass cliches each featuring one pair of designs, in black and brown-grey, the latter in negative, three trial exposures of each pair on photographic paper with two showing note of Sperati about the intensity of the imrpession, and five essays of cancellations, of which three with two examples, of « Correo de la Paz/RB » cds with two different dates, « Cint » & « Sucre » straight lines, four with profuse notes in pencil and three with Sperati's fingerprints using the same ink; an extraordinary lot with nothing similar known. nor cliches nor matrices included in the Postal Museum of Paris and « Ultimate » collections; a negative adte 1941 is reported by the B.P.A.
Please note that we are still working on adding images for the lots. If the lot you are interested in does not have images available yet, we invite you to check again in a few days.
If you still cannot find the images you are looking for in a few days, please send us a message. Important: don't forget to mention the lot number(s).
Thank you for your understanding.