Lot 10014 –
125m. booklet: 5m lake, an imperforate interpanneau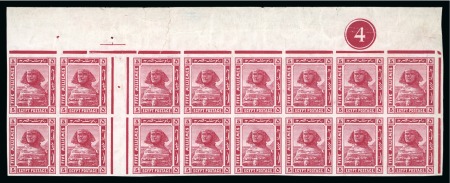 Lot 10014 –
125m. booklet: 5m lake, an imperforate interpanneau
Egypt » Booklets » The Pictorials & Crown Overprints (Nile Post SB4 to SB8)
Date de vente
lun. 13 déc. 2021 at 16:00 (Europe/Zurich)
125m. booklet: 5m lake, an imperforate interpanneau block of sixteen, the right-hand block of twelve is from the top of the pane of 60 showing. plate number « 4 », showing watermark sideways with star to the right, intended for booklet production, a unique showpiece.
Note: Illustrated on page 129 of the Nile Post
Please note that we are still working on adding images for the lots. If the lot you are interested in does not have images available yet, we invite you to check again in a few days.
If you still cannot find the images you are looking for in a few days, please send us a message. Important: don't forget to mention the lot number(s).
Thank you for your understanding.