Lot 51047 –
1932 Lyre Bird 1s green and 1938 Robes 5s, 10s and £1 in mint marginal blocks of four with John Ash printer's imprint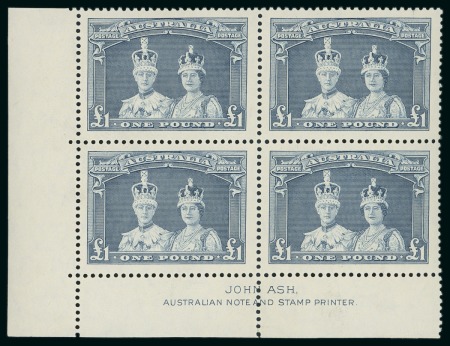 Lot 51047 –
1932 Lyre Bird 1s green and 1938 Robes 5s, 10s and £1 in mint marginal blocks of four with John Ash printer's imprint
Australia » Commonwealth of Australia
Date de vente
jeu. 16 déc. 2021 at 13:00 (Europe/Zurich)
1932 Lyre Bird 1s green and 1938 Robes 5s, 10s and £1 in mint marginal blocks of four with John Ash printer's imprint, the Lyre Bird with perfs folded vertically with a little separation at foot, the Robes issues mounted in the margins only, scarce positional multiples.
Please note that we are still working on adding images for the lots. If the lot you are interested in does not have images available yet, we invite you to check again in a few days.
If you still cannot find the images you are looking for in a few days, please send us a message. Important: don't forget to mention the lot number(s).
Thank you for your understanding.