Lot 10066 –
Statues: Athlete in bronze performing the Olympic salute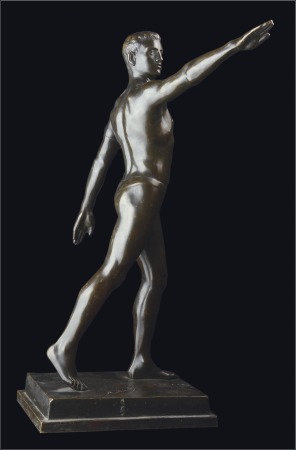 Lot 10066 –
Statues: Athlete in bronze performing the Olympic salute
Olympics » Olympic Statues
Date de vente
mar. 27 oct. 2020 at 09:30 (Europe/Zurich)
Athlete in bronze performing the Olympic salute, made by Muller CH and signed by artist, 49cm tall, mounted on bronze plinth 17.5cm x 23.7cm, right arm shows cracking in the arm, an attractive showpiece Note: In this Olympic salute, your right arm should be held out, slightly to the side, and pointing in an upward angle. Likewise, your palm should be out and your fingers touching. The Nazi salute is more or less performed the same way, except it is customary to hold your arm straight in front of you, instead of partially to the side. As you might imagine, the Olympic salute fell out of favour after WWII. Despite this, the International Olympic Committee hasn't yet replaced it with a different salute, even if nobody would dare use it any more for fear of being misinterpreted.
Please note that we are still working on adding images for the lots. If the lot you are interested in does not have images available yet, we invite you to check again in a few days.
If you still cannot find the images you are looking for in a few days, please send us a message. Important: don't forget to mention the lot number(s).
Thank you for your understanding.