Lot 80020 –
1848-59 Post Paid 2d blue on greyish, early impres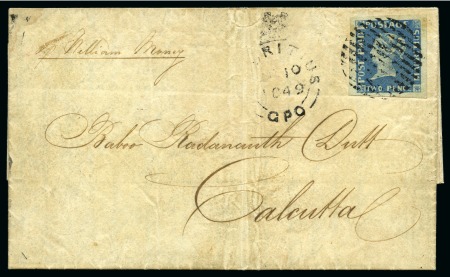 Lot 80020 –
1848-59 Post Paid 2d blue on greyish, early impres
Mauritius » 1848-59 Post Paid Issue » Early Impressions (SG 6-9)
Estimation
15'000 – 25'000 GBP
Date de vente
jeu. 7 déc. 2017 at 11:00 (Europe/Zurich)
1848-59 Post Paid 2d blue on greyish, early impression, position 10 on the plate, very fine with large margins and used on folded letter « Port Louis 10th August » to Calcutta (Dutt correspondence) by the vessel « William Money », with crowned MAURITIUS GPO despatch of AU 10 1849, on reverse boxed Calcutta Ship Letter (apportioned rate « Inland Bearing 1anna/ Ship do 2annas/Total 3annas »), stamp lightly tied by barred circular grid in black, a rare cover Note: The « William Money » was an Emigrant Ship plying between England and Australia, via the Indian Ocean.
Please note that we are still working on adding images for the lots. If the lot you are interested in does not have images available yet, we invite you to check again in a few days.
If you still cannot find the images you are looking for in a few days, please send us a message. Important: don't forget to mention the lot number(s).
Thank you for your understanding.