Lot 10068 –
SHANGHAI: « KITAI » 7k letter card to Germany, uprat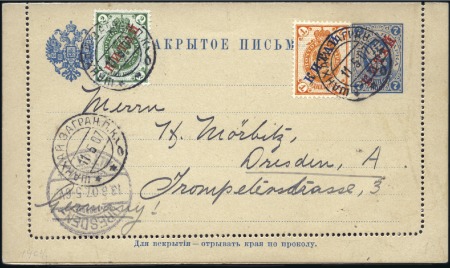 Lot 10068 –
SHANGHAI: « KITAI » 7k letter card to Germany, uprat
Russia » Russia Post in China
Date de vente
mer. 12 déc. 2012 at 10:00 (Europe/Zurich)
SHANGHAI: « KITAI » 7k letter card to Germany, uprated with « KITAI » 1k and 2k paying the 10k foreign letter rate, all cancelled by Shanghai 11.5.07 cds (T&S type 5B), Dresden arrival, very fine.
上海:俄國客郵7戈比郵資卡寄德國,另貼1及2戈比以支付10戈比的外國郵資,全部銷上海日戳(1907.5.11)(T&S5B型),亦見銷德勒斯登到達戳,上品。
Please note that we are still working on adding images for the lots. If the lot you are interested in does not have images available yet, we invite you to check again in a few days.
If you still cannot find the images you are looking for in a few days, please send us a message. Important: don't forget to mention the lot number(s).
Thank you for your understanding.