Lot 10040 –
PEKING: 1910 Cover registered from the Postmaster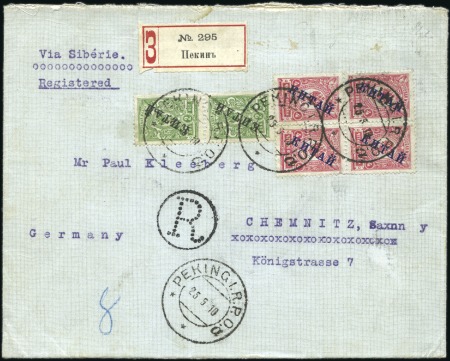 Lot 10040 –
PEKING: 1910 Cover registered from the Postmaster
Russia » Russia Post in China
Estimation
1'500 – 2'000 EUR
Date de vente
mer. 12 déc. 2012 at 10:00 (Europe/Zurich)
PEKING: 1910 Cover registered from the Postmaster at Peking to Germany with « KITAI » 2k vert. pair and 4k block of four tied by Peking 25.5.10 cds (T&S type 8, Gregorian calendar), with reg'd label in Cyrillic and encircled « dotted R » hs, St. Petersburg and Chemnitz bs. The cancellation was introduced in 1910 by the Peking Postmaster for correspondence going abroad, but is rarely seen and was probably suppressed by the Imperial Russian Postal Administration. The contents of this cover (in German) give a brief history of the Russian P.O. at Peking, detailing the stamps on sale, and providing examples of the cancels in use at his office. He explains that the type 8 cancel was his initiative for correspondence going abroad, and provides the only known strike of another of his innovations: the double oval « Doplatit » (To Pay) hs of Peking. A truly fascinating piece of history of the Russian Post Office in Peking.
北京:1910年,掛號封由北京郵局局長寄德國,貼俄國客郵2戈比直雙聯及4戈比四方聯,銷北京日戳(1910.5.25)(T&S 8型),另貼掛號標籤(Cyrillic字型)及銷圓形虛線R戳,亦見銷聖彼德堡及開姆尼茨日戳。 此戳於1910年由北京郵政局長推出作寄海外之用,但十分罕見的被當時皇家俄國當局抑制。此信內容由德文寫成,記錄俄國在北京客郵的歷史,包括郵票發售及展示該局幾款使用中的郵戳。他述及主張以第8型戳作寄海外之用,及另一項他的創新:北京雙圈楕圓 »Doplatit »(支付)戳 此為俄國在北京客郵局的真實歷史。
Please note that we are still working on adding images for the lots. If the lot you are interested in does not have images available yet, we invite you to check again in a few days.
If you still cannot find the images you are looking for in a few days, please send us a message. Important: don't forget to mention the lot number(s).
Thank you for your understanding.