Lot 10010 –
TIENTSIN: 1905 Cover sent registered to Germany fr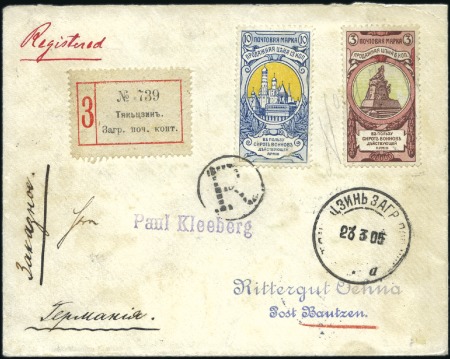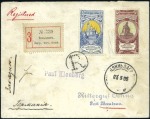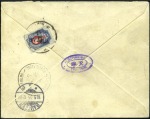 Lot 10010 –
TIENTSIN: 1905 Cover sent registered to Germany fr
Russia » Russia Post in China
Date de vente
mer. 12 déc. 2012 at 10:00 (Europe/Zurich)
TIENTSIN: 1905 Cover sent registered to Germany franked on the reverse with « KITAI » 20k tied by Tientsin 23.3.05 cds (Tchilinghirian type 5A), and franked on the obverse with War Charity 10k and 3k that were ignored by the P.O. as a philatelic embellishment, with the 10k tied only by the encircled « dotted R » hs, registered label adjacent, Troitskosavsk transit indicating that it was not sent by the Trans-Siberian railway via Manchuria (as it was closed during the Russo-Japanese War), very unusual. Note: The War Charity issue was not distributed to the P.O.s in China.
天津:1905年,挂号封寄德国,背贴俄国客邮20戈比销天津圆戳(1905.3.23)(Tchilinghirian 5A型),面贴战争慈善票10戈比及3戈比,两者没有邮戳作集邮之用,另10戈比销圆形虚线R戳,贴挂号标签,俄国恰克图中转戳,表示其没有经西伯利亚铁路寄送(此时日俄战争,铁路暂停),极少见
Please note that we are still working on adding images for the lots. If the lot you are interested in does not have images available yet, we invite you to check again in a few days.
If you still cannot find the images you are looking for in a few days, please send us a message. Important: don't forget to mention the lot number(s).
Thank you for your understanding.