Lot 30002 –
1903-1906 Portrait of Nicholas II by Mouchon, Zarrinch Essays. Bottom marginal pair of Tsar Nicholas II die essay in black on signed paper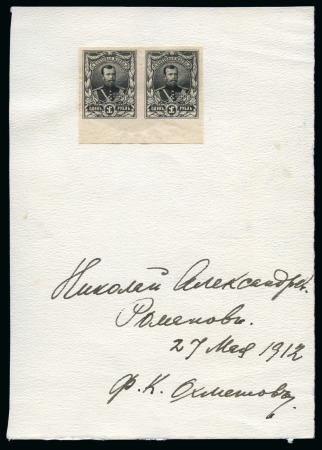 Lot 30002 –
1903-1906 Portrait of Nicholas II by Mouchon, Zarrinch Essays. Bottom marginal pair of Tsar Nicholas II die essay in black on signed paper
Russia » The « Nikolai » Collection of Romanov Essays and Proofs
Estimation
1'500 – 2'000 EUR
Date de vente
mar. 15 juin 2021 at 13:00 (Europe/Zurich)
1903-1906 Portrait of Nicholas II by Mouchon, Zarrinch Essays. Bottom marginal pair of Tsar Nicholas II die essay in black, « full face », Tsar in military uniform, laureated frame, 1 Rouble value tablet. Confirmed design signed by an official F. K. Ochmetov dated 27th of May 1912, probably unique.
Please note that we are still working on adding images for the lots. If the lot you are interested in does not have images available yet, we invite you to check again in a few days.
If you still cannot find the images you are looking for in a few days, please send us a message. Important: don't forget to mention the lot number(s).
Thank you for your understanding.