Lot 71339 –
1877 (Jul 29) Wrapper from Singapore with rare »POSS. ANG. / PAQ. FR. N No 10″ maritime octagonal ds adjacent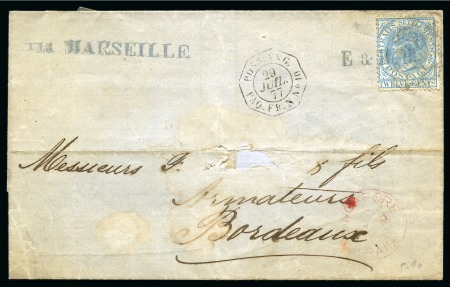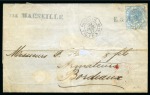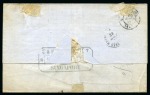 Lot 71339 –
1877 (Jul 29) Wrapper from Singapore with rare »POSS. ANG. / PAQ. FR. N No 10″ maritime octagonal ds adjacent
Malaysia » Straits Settlements
Date de vente
ven. 18 juin 2021 at 13:00 (UTC)
Description
1877 (Jul 29) Wrapper from Singapore with 1867-72 12c blue tied by indistinct cancel and commercial hs, with rare « POSS. ANG. / PAQ. FR. N No 10 » maritime octagonal ds adjacent (unrecorded by Salles, this being the discovery example of this postmark with ANG instead of ANGL, now noted in the unpublished Pothion handbook under #1133a), Singapore and Bordeaux arrival ds, addressee name excised and minor soiling, possibly unique.
Please note that we are still working on adding images for the lots. If the lot you are interested in does not have images available yet, we invite you to check again in a few days.
If you still cannot find the images you are looking for in a few days, please send us a message. Important: don't forget to mention the lot number(s).
Thank you for your understanding.